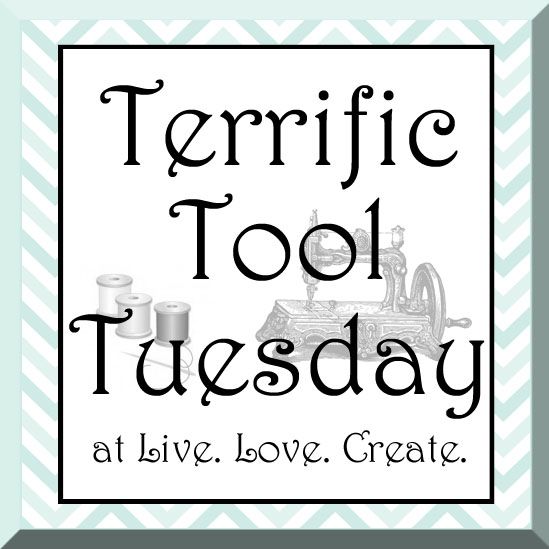 Welcome to a long overdue Terrific Tool Tuesday! I have enjoyed my break from blogging while I was trying to get my life into a new routine since my two-some are in preschool. Between managing my "free time" when the boys are at school (and I don't have to co-op) and scheduling speech therapy for my littlest, things have been extremely busy and stressful here. But I plan on being a little more regular around here, and have some big news to share for 2014. Keep an eye out soon for my big Sew-Along 2014 news!
So, enough about me and on to my Terrific Tool for this post. I am sure this little story is going to sound pretty familiar to some of you out there. Have you ever bought a PDF pattern, for a quilt, a bag, a garment, etc... and then when you get around sew it up, you can't find it? Maybe you saved your original file you got through email, only to find the link expired 2 weeks after you bought the pattern. Or worse yet, you have literally hundreds of patterns and tutorials saved to your sewing folder on your computer and your hard drive crashes. Even if you have an ultra-tech husband like mine, who has redundant hard drives to back up files, that still doesn't mean your files are 100% safe, especially if your ultra-tech hubby decides to upgrade the computer and forgets to tell you. That is where these tools come in handy, and it never hurts to have more than one.
Disclaimer: the links I post to Dropbox on this page are affiliate links. I will get a little more storage for free if you use my link (and I thank you kindly in advance if you decide to sign up using my link since I am over 3/4 full of my allotted 2G).
Dropbox
is a secure site where you can store up to 2G of files on for free. You have to download their program to your computer to use it, but once you sign up and download the program you can easily back up anything from your computer to your
Dropbox
folders. You have the option of sharing folders with your friends and family if you want, but any folders you create are private by default. You can buy more space if you are interested, or invite your friends to sign up, but if you are just using it for sewing (or embroidery designs if you have an embroidery machine) 2G will hold you for a little while at least. And the great thing about
Dropbox
is there is an app for it for your
iPad/iPhone
or
Android device
so you can access your files on your tablet or phone, making that shopping trip to Joann's much more productive. Am I the only one who forgets to write down all the materials needed for a pattern when I go to the fabric store? Or I find a fabric that would be completely adorable for that pants pattern... but I wasn't planning on making those yet so I didn't look at fabric requirements? Well now you can access your patterns on the go if you have a smart phone (although you will have to watch your phone's network plan so you don't go over your data limit!) or you can even access your files through the
Dropbox
website, again always keep in mind your data limit if you download anything while you are out and about.
Another way you can save your files is on flash drives or thumb drives. Flash drives come in many different shapes and sizes. You can find them at most of your big box stores, even at the grocery store! I have this cute little flash drive for a redundant back-up of my sewing patterns. While it's cute, it only holds 2G.
Sewing Machine USB 2 GB Thumb Drive
I also have a back-up generic flash drive (and a back-up-back-up drive since my kids love to hide my flash drives). Seriously I don't think you can have too many flash drive back-ups, because they can be easily lost, damaged, or destroyed.
There are many other storage options for your files, but my main point for this post is to make sure you back up those PDF files, and back them up often! If you don't have
Dropbox
, I highly recommend signing up for a free account. Just be sure to save your files in multiple locations. You never know what may happen tomorrow... you may just spill coffee on your laptop and flash drive destroying them both in the same day. ;)